Beaches Turn Red as Thousands of Langoustines Wash Up on Chilean Beach
by
Lucy Hagger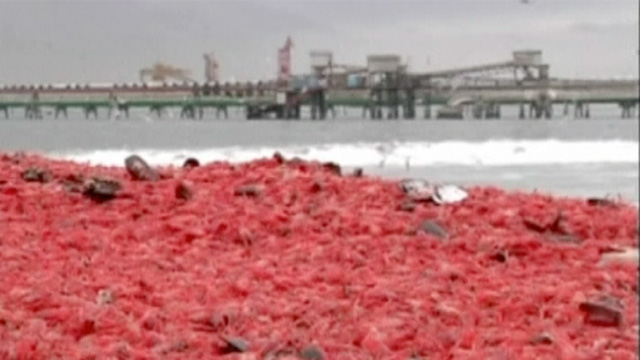 Beaches in Chile have turned red with the presence of thousands of washed up prawns and langoustines and no one knows why.
Unfortunately the best photo I can get hold of is this screen grab of some footage, but more photos should be popping up online soon I'm sure.
Numerous beaches of the Concepcion Province are coated in a carpet of langoustines. Investigations are being carried out to attempt to find out the reason for this occurrence.  Tests of sea temperature, electrical conductivity and oxygen levels will be carried out to help to determine what has caused the deaths of thousands of langoustines. The main culprits at the moment are viruses of the langoustines, offshore oil exploration and poisoned food, but nothing has been confirmed as of yet.
This is not the first time living creatures have washed up on Pacific Chilean beaches, but this event is on a much greater scale and has perplexed locals and authorities in the area.
For a little more information watch this video from the Guardian.
There is concern that these events are becoming more common. Is this a chance event or is something happening in our oceans driving this kind of strange occurrence?
Hopefully there will be some more answers over the next few days..